Virtual Conferences and Events in our New Covid-19 Reality!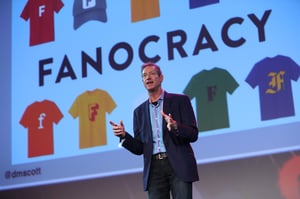 What a difference a few weeks makes! In the first two months of 2020, I interacted with thousands of people at ten different in-person events on three continents. Now and for the foreseeable future, there will be no live events. However, I am super excited that many organizations have stepped up to create high quality virtual events at a time that many of us are hungry to learn new things. I wanted to share a few virtual events I will be participating in.
Note: If you are considering a virtual conference and are looking for a speaker or just want to discuss some ideas for creating an online event, please contact me.
IMPACT Digital Sales and Marketing Day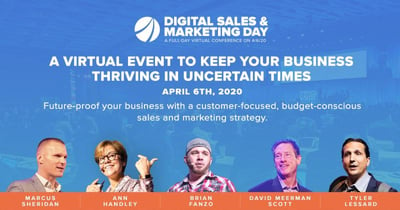 My friends at IMPACT, the digital marketing agency that I rely on for much of my own marketing projects, including designing and building my websites, has created Digital Sales and Marketing Day. This virtual event happening on April 6, 2020 is designed to keep your business thriving in uncertain times.
Besides me, featured speakers include Marcus Sheridan, Ann Handley, Brian, Fanzo, Liz Moorehead, and Tyler Lessard. The theme of the day is how to future-proof your business with a customer-focused, budget-conscious sales and marketing strategy.
In my session "How to Use the Power of Mirror Neurons to Build Fans of Your Videos" I will share specific ideas you can implement right now that I learned from researching my new Wall Street Journal bestselling book Fanocracy: Turning Fans into Customers and Customers into Fans.
I will discuss how, in today's covid-19 reality, marketers and salespeople have an opportunity to use video to engage viewers when face-to-face interaction is no longer an option. I will share an understanding of what's going on in our brains as we watch a video. When you have an understanding of the neuroscience behind how we watch video, you will learn simple but powerful ways to make you videos more effective, driving engagement, and building fans.
You can register here. IMPACT Digital Sales and Marketing Day is normally $199. However, if you use the code FANOCRACY you can get you a discounted pass at just $39.
Skillsoft Perspectives 2020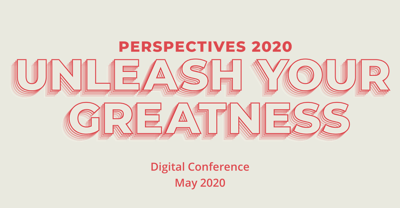 Skillsoft is a company that delivers online learning technology and content used by enterprises to improve organizational performance. Their virtual event, Perspectives 2020, is a really cool "follow-the-sun" approach where for the full day on May 13 from Sydney morning through USA West Coast evening there are talks happening.
As a global company with clients around the world this 24-hour event format works great.
The free Perspectives 2020 digital experience will bring together learning and talent professionals, business leaders, learners and university students from across the globe to explore critical issues and immerse in best practices.
Keynotes will be spread throughout the day, and center around the theme of learning as a positive force in a time of persistence. Woven between sessions like head-to-head discussions on industry topics, interactive case studies and specialized content tracks.
Besides me, some of the other keynote speakers include Tara Westover, Shawn Achor, Dr. Heidi Grant, Jez Rose and Lucy Adams.
Perspectives 2020 will be filmed in various studios around the world on May 13 beginning at 9:00 a.m. AEST in Sydney and ending the day at 4:00 p.m. PDT in San Francisco. The event is free, and you can register here.
Now is a time to learn and now is a time to teach
Over the past several weeks, I've found myself going through several stages of emotions as I've been adjusting to the new Covid-19 world we live in.
I started out in a bit of a daze, spending hours on the online news sites and my social media feeds as I processed what was happening in real time.
Soon I was feeling depressed as I realized I wouldn't be spending time with interesting people at the live events I love to deliver talks at.
But lately I've been excited and hopeful as I've been thinking of new ways to deliver content to people online. And I'm taking the time to learn new things myself.
I'm grateful for companies like IMPACT and Skillsoft for their leadership in creating virtual events and I look forward to participating in many more in the coming months.
Thanks for reading this far. I also wanted to share with alert readers like you that I am planning a new initiative to allow people to meet with me one-on-one via Zoom. I plan to launch what I am calling Live Fanocracy in the next week or two. Stay tuned.