The New Rules of Marketing and PR 6th Edition Audiobook Out Now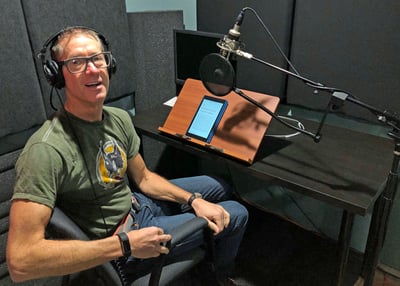 This winter I was in the studio recording the audiobook for the new 6th edition of The New Rules of Marketing and PR. The audiobook is now available on Audible.com. 
I'm excited to have read the entire book myself for the first time. A professional narrator had read previous editions. I was able to capture the essence of the stories, the subtleties and nuances, and the important points in ways that somebody who isn't as close to the ideas in the book could. My personality shines through in this version!
I recorded with Kenny Pappaconstantinou at Elephant Audiobooks. Kenny is a joy to work with. He pushes just hard enough to get the best work out of me but not so much as to make me nervous. We recorded two hours in the mornings, took a break for lunch, and then two hours in the afternoons over seven days. This is the 5th book we've worked on together. Thanks Kenny!
The first edition was published in 2007 and was six months on the BusinessWeek bestseller list. The newest 6th edition of The New Rules of Marketing and PR is the most comprehensive version of the book yet. Here's the audiobook on Audible.com.
Hundreds of colleges and universities around the world use it as a text in class and many companies require all marketing and PR staff to read a copy.
The new 6th edition includes a dozen fresh new examples of success. I've also updated many of the existing case studies that appear throughout the book. I've added sections on some of the important new services that have emerged since the previous edition including Facebook Live and Snapchat.
I also revised and streamlined the book to make it more readable. To be honest, it got a little bloated over the past decade. Here's a link to the print book on Amazon.