Matt Risinger Shows How a YouTube Channel Helped Grow Business from Zero to $20 Million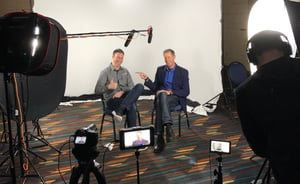 Twelve years ago Matt Risinger started a custom home building firm specializing in architect driven and fine craftsmanship work. Soon after, he also started a YouTube channel about building science, craftsmanship, and best practices for building and remodeling. Matt now has more than 130,000 subscribers to his channel and his construction firm has grown from zero to $20 million in annual revenue in just over a decade. At a recent Tony Robbins Business Mastery event we sat down to discuss how Matt uses YouTube to grow his business.
What I find particularly interesting is Matt's YouTube channel is so popular that building supply companies pay him big money for sponsorship, a side business that funds the professionals who film and edit his high quality videos.
Direct link to Austin Homebuilder Matt Risinger Uses YouTube To Grow His Business To $20 Million on YouTube.
I wrote about Matt several years ago in a post titled Austin Custom Home Builder Uses YouTube To Grow A Successful Business.
In this video we extend the ideas in the blog post to talk about the buyer personas Matt targets with his videos, how he thinks up ideas for two new videos per week, and how a YouTube channel is a major key to his success. Best of all, in the video Matt provides advice on how you can achieve similar results!
I'm honored that Matt cites my ideas as a spark to get his YouTube channel started. Thank you Matt.
And I'm thrilled Matt's success has resulted in him employing 27 people as of this writing. That my ideas helped grow a business that now supports 27 families, (and I have other people tell me similar stories), is a key reason I love what I do. Yes I earn a good living and have fun in my work. But it is a true honor to be a (small) factor in how people grow their businesses and positively impact the world.
New Marketing Mastery
At Tony Robbins Business Mastery I offer New Marketing Mastery, my online training program that teaches how to align your marketing with the way that people buy. Tony helped me create the program and these are the principles that Matt used to start and grow his YouTube channel.
For the next month (until March 31, 2018) you can get $500 off the New Marketing Mastery program by using the coupon – 500march2018 – at check out.