Gillette #MeToo Newsjacking Film Fails Because It Promotes Gillette Products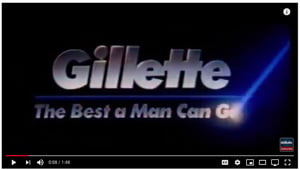 Several days ago, Gillette, the company known for men's shaving products, released a short (a bit less than two minutes) film titled We Believe: The Best Men Can Be. The film is an interesting look at the #MeToo movement from the male perspective. I really, really wanted to like the film, and I mostly did except for two massive flaws.
The first flaw came at just seven seconds when Gillette popped in an ad for the company into the film with the voice-over saying: "Is this the best a man can get?" (playing off the Gillette tagline).
Secondly, and perhaps worse, the description of the video on YouTube says: "The Bullying. Harassment. Is this the best a man can get? It's only by challenging ourselves to do more, that we can get closer to our best. To say the right thing, to act the right way. We are taking action at thebestmencanbe.org. Join us."  I was expecting additional interesting content here at the dot org site, but sadly the dot org URL redirects to the Gillette dot com website where they market and sell their products. This is a bait and switch tactic used by the unscrupulous.
The #MeToo movement is not a place to sell razors and shaving cream
When a company offers content for free, the mere act of giving the gift is enough. There's no need to trade the gift for something else like your attention to an ad. This video is generating quite a backlash on social media and I think for the simple reason that they are trying to sell product.
Unfortunately, this is not #TheBestMenCanBe.