Democratic Presidential Candidates Not Using Digital Platforms to the Full Potential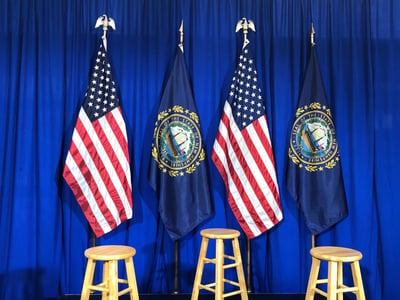 Long-time readers of my blog may recall that each US Presidential election cycle, I love to analyze the marketing strategies and tactics used by the various candidates. I look at the Primaries and the General Election and I have done so since the 2004 cycle. I'm fortunate to live just 20 miles from the New Hampshire border so I can attend events hosted by the candidates at this first in the nation primary state.
The U.S. Presidential election is a real-time marketing case study that plays out before our eyes over two years. We can see the ups and the downs as candidates seek the nomination and then the Presidency and we can watch the resulting news and polling data. I'm utterly fascinated.
I've already begun my research into the 2020 cycle. So far, I have attended 11 different candidate events. (Yes, eleven!) I've asked questions at town halls and personally met (in alphabetical order) Cory Booker, Pete Buttigieg, Julian Castro, John Delaney, Tulsi Gabbard, Kirsten Gillibrand, Kamala Harris, John Hickenlooper, Beto O'Rourke, Elizabeth Warren, and Andrew Yang. All are Democratic party candidates, and all have qualified for the first debate split between June 26 and 27.
I do not look at the political aspects of the candidates, only the marketing aspects. In the past three cycles, there is no doubt that the candidate with the best marketing won the Presidency. More than that, the candidate who made clever use of the most modern marketing techniques and platforms won.
In 2008, Barack Obama was the first candidate to forcefully embrace social media and the new rules of marketing. Here is my marketing analysis of Obama's win. And in 2016, Donald Trump was the most real-time candidate, using Twitter to share his take on the news of the day so reporters were compelled to write about him daily. This generated more free media than all the other candidates combined. Here's my marketing analysis of Trump's win.
Now, 2020 is shaping up to be fascinating indeed! I will share thoughts from time to time between now and election day on Tuesday November 3, 2020.
Most 2020 Democratic candidates are not using digital platforms to their full potential
Candidates are missing an opportunity to engage on social media with those who attend in-person events like I do. While every candidate has asked for my email and mobile phone numbers, no candidate has asked me for my Twitter ID.
None of the campaigns has merged the offline events with their social strategy. For example, they could provide a unique hashtag for engagement at the event I attended, a common technique that's quite powerful in corporate events.
Watch for more posts on the Democratic candidates in the coming months.
Important note: This is a marketing blog, not a political blog. I am not commenting on any candidate's views on the issues nor am I publicly supporting any candidate. I write about the US Presidential election because it is a massive marketing case study playing out for several years, not because I voice my support for any candidate over another or one party over another.
For more of my posts about US Presidential election marketing going back three election cycles, go here.